Chargrilled venison cutlets with a cumin & fennel rub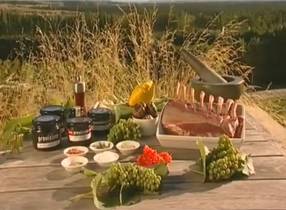 Serves: 4
Preparation: 30 mins
Time to cook: 30 mins
Venison
1 x 8 venison rib rack 
1 tsp dried rosemary 
½ tsp chilli flakes 
1 tsp cumin seeds 
1 tsp fennel seeds 
1 tsp Maldon salt
20ml olive oil
Port wine sauce
50 ml port wine
2 tbsp PROVISIONS pinot & mint jelly (or similar)
100 g Glace de Viande
salt and pepper to taste
Chargrilled summer vegetables
Summer vegetables such as baby bok choi, fennel bulb, baby carrots (enough for four portions as a side dish)
olive oil 
salt & pepper
4 tbsp PROVISIONS walnut & cherry relish (or similar)
1 cup watercress, picked and washed
Garlic mash
2 smoked garlic bulbs
olive oil
400 g (mashing) potatoes, peeled & washed
50 g butter
100 ml cream
salt & pepper to taste 
2 tbsp chives, finely chopped
Venison cutlets
Cut the rack between every second cutlet bone to produce 4 double cutlets (remove the second bone from each cutlet, leaving the best looking bone for appearance, optional). Place the rosemary, chilli flakes, cumin & fennel seeds and salt into a pestle & mortar and grind to medium.

Drizzle with a little olive oil and rub into both sides of the cutlets. Allow to sit for 20 minutes for flavours to develop before placing on the chargrill or BBQ. Cook the cutlets to medium rare (2-3 minutes on each side), place aside on a cake rack covered with tin foil to keep hot and allow the meat to rest, stop cooking and the juices to settle back in the meat (10 minutes minimum as a rule).
Garlic mash
For the mash cut the garlic bulbs in half, brush with olive oil and place on a cool part of the BBQ or grill to soften the garlic. Use a suitable mashing potato such as maris anchor, ilam hardy or desiree, cut into even sized pieces and place into a pot, covering with cold water add a tsp of salt. Bring to the boil, turn to a simmer, then drain when potatoes have become tender and slip off a knife when stuck in and lifted out. Allow the potatoes to steam dry and while still hot pass through a mouli or potato ricer.

Melt the butter in the cream but do not boil. Pour onto the potato and whip in with a spoon or spatula. Season with salt and pepper and squeeze in the garlic cloves that should be soft and pastelike at this point, along with the chives before continuing to mix until smooth and velvety. Keep hot until ready to serve.
Port wine sauce
Place port wine into a sauce pan, bring to the boil and burn off alcohol. Spoon in the jelly along with the meat glaze and simmer for 5-10 minutes. Season with salt & pepper and keep hot until required.
To assemble
To assemble, trim, clean & cut the vegetables into suitable shapes and portioning for the BBQ. Toss in olive oil, season with a little salt & pepper and chargrill. Place aside on a dish ready for serving.
Place a spoon of the pureed potato on the plate slightly off centre with the BBQ veg. on the other side. Place the well-rested venison cutlet in the centre and spoon over some of the glaze. Top with a spoon of the walnut cherry relish and a bunch of picked watercress.