Greek style venison on flat bread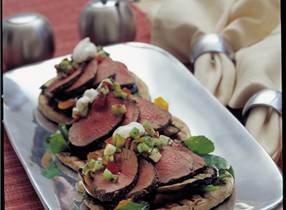 Serves: 4
Preparation: 1 hour
Time to cook: 20 mins
Dressing
1/2 cucumber peeled and deseeded
6 cornichons (small gherkins)
2 tbsp capers
12 kalamata black olives (de-stoned)
4 tomatoes skinned and deseeded
1/2 green & 1/2 red bell pepper
1 tsp chopped tarragon
1 tsp chopped parsley
1 tbsp dijon mustard
1 tsp mint
3 tbsp tarragon vinegar
salt & pepper
100 g goat cheese feta
Greek style venison
400 g venison
100 mls of olive oil
1 tsp each of oregano, basil, mint & rosemary
4 garlic cloves
Vegetables
1 red pepper
1 yellow squash
1 red onion
1 zucchini
To serve
4 pita bread
1 bunch of arugula or mesclun greens
yoghurt with a squeeze of lemon (or sour cream)
mint
Venison
Mix oil and chopped herbs with garlic.  Roll venison in half the marinade and the roughly sliced vegetables in the other half of the marinade for about 1 hour.
Sear meat in a hot pan or on the b.b.q. Continue to cook until medium rare (pink), rest and then cool.
Dressing
Chop all ingredients into a very small dice, mix everything together and cool (this can be made the day before).
Vegetables
Grill all vegetables over a high heat until lightly coloured.
To serve
Grill the pita breads on the hot plate.  Place the vegetables on top with the salad greens, before adding the thinly sliced venison and garnish with the dressing. Top with sour cream and a sprig of mint.