Gourmet salad with venison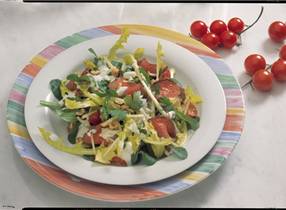 Serves: 4
Preparation: 20 mins
Time to cook: 10 mins
Cost per serve: $6.00
Venison
400 g venison medallions
salt and freshly ground pepper
vegetable oil
Salad
Assorted lettuce greens (radicchio, lamb's lettuce, etc.)
1 small pear
2 tbsp butter
1 tsp sugar
Dressing
180 ml sour cream
apple juice (optional)
2-3 tsp hot mustard
salt and freshly ground black pepper to taste
1 lemon, juice of
Garnish
Fresh parsley
1 1/2 cup crushed hazelnuts
julienned leek and carrots
To prepare salad
Wash lettuce and break it into bite-sized pieces. Cut pear into slices. Brown pear in melted butter, spread sugar over it and allow it to caramelise.

To prepare dressing
Blend sour cream and apple juice until smooth, and add mustard, salt, pepper, and lemon juice to taste.

To prepare venison
Season to taste with salt and pepper. Sear venison medallions over a high heat to rare or medium rare. Before serving allow medallions to rest for 5 minutes under foil, then slice.

To serve
Arrange lettuce as a bouquet on four plates, and place venison and pear slices around. Spoon over the dressing and garnish with chopped parsley, hazelnuts, julienned leek and carrots.