Venison Wellington with Chestnut, Mushroom and Cranberry stuffing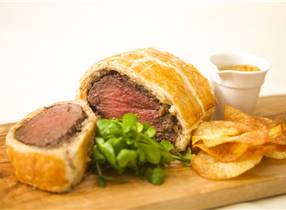 Serves: 3
Preparation: 1 hour
Time to cook: 30 minutes
Wellington
1 New Zealand venison fillet at around 450g in weight
3 tbsp vegetable oil
3 large Portobello mushrooms, finely chopped
150g cooked vacuum packed chestnuts
50g dried cranberries
2 tbsp chopped flat leaf parsley
1 tsp Dijon mustard
2 crepe pancake, shop bought or home made
1 packet of pre rolled shop bought puff pastry
2 egg yolks, beaten    
Game Chips
2 large peeled potatoes
Oil for deep frying
Serving Suggestions
Redcurrant Jelly
Game Gravy or Jus
Watercress    
Recipe by Sophie Wright
The perfect dinner party dish or a romantic night in for 2! Also a fantastic Christmas recipe for those who simply can't face another Turkey!!
Method
To make the Wellington. Heat the oven to 200°C. Place a frying pan on the stove and add in 1tbsp of oil. Add the finely chopped or blitzed mushrooms and garlic and cook on a medium heat for 10-15 minutes. You want to make sure all the liquid from the mushrooms has evaporated or the final dish may be soggy.
While these are cooking, finely chop or blitz the chestnuts, dried cranberries and chopped parsley. Add the Dijon mustard, salt and black pepper then mix into the cooked mushrooms.
Leave this to cool completely in the fridge while you seal the meat.
In the same frying pan, add the remaining oil and heat until smoking hot. Season the venison with salt and pepper and lay it in the hot pan. Allow to colour on all sides by rolling the meat around in the pan for 4-5 minutes. Remove from the pan and allow to cool.
Lay out the shop bought, pre rolled pastry in front of you. Lay on the Crepe or French style pancake (this will stop the pastry from becoming soggy during cooking). Spoon on the cooled chestnut paste and spread evenly over the Crepe.
Now lay the sealed venison on top at the side closest to you. Brush all the edges well with the beaten egg yolk. Roll the pastry around the Venison, trim off the excess and make sure the seal is at the bottom. Trim off the excess on the edges also, making sure you have enough left to fold the edges underneath the Wellington parcel.
Brush well with egg wash, Place onto a non stick baking tray, sprinkle with sea salt and bake in a hot oven for 15-20 minutes.
Peel and slice the potatoes very thinly to make the game chips. Now fry them gently until golden brown at 170°c.
When cooked, allow the Wellington to rest for 10 minutes before removing both of the ends to reveal the pink meat inside, place on a wooden serving board along with a pile of the Game chips, a bunch of watercress and a jar of redcurrant jelly.