Grilled venison leg fillet with tuscan bread pudding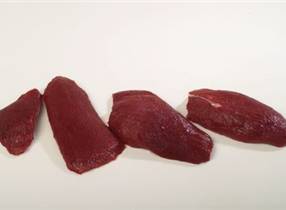 Serves: 4
Preparation: 30 mins
Time to cook: 30 mins
Venison & tuscan bread pudding
600 g venison leg fillet
6 shallots, diced
4 cloves garlic
50 ml olive oil
12 ripe tomatoes, de-skinned, deseeded and diced
1 tsp sugar
salt and cracked pepper
100 ml balsamic vinegar
1 small bunch basil
1 loaf ciabatta
100 ml vegetable oil for frying
Vegetables
12 green beans
1 small eggplant
1 zucchini
1 red onion
red, green and yellow capsicum
4 flat portobello mushrooms
olive oil
salt and pepper
For the venison & tuscan bread pudding
Sear meat in a hot pan until brown and then cook for a further 6 minutes in 180 ̊C oven. Remove and rest uncovered in a warm place for 5 minutes.

Cook shallots and garlic in olive oil until soft, add the tomato and cook slowly for 20 minutes. Add half the sugar, salt and pepper and 1 tablespoon of balsamic vinegar. Add the chopped basil and cook for 5 minutes. Cool.

Slice bread into lozenges and fry in the oil until lightly browned. Cut into long triangle shapes and line a small cup or similar mould with bread. Dice the remaining bread and add to the tomato mix. Fill the lined dishes with the tomato mix and place in a moderate oven (150 ̊C) for 10 minutes.
For the vegetables
Blanche beans until just soft. Slice all other vegetables, rub with olive oil and season. Grill on a hot plate for 8 minutes.
For the sauce
Remove meat from the pan, add the remaining balsamic vinegar and sugar to the pan juices and reduce by half over a high heat.
To serve
Turn the puddings out onto a large plate and place the grilled vegetables around. Slice each fillet into 5 pieces and place on the vegetables. Pour over the jus. Garnish with a sprig of fresh basil.