Moroccan spiced venison on falafel cakes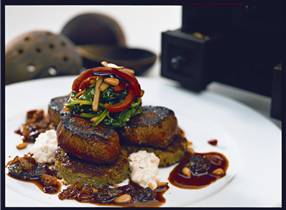 Serves: 2
Preparation: 45 mins
Time to cook: 20 mins
Venison
3 x 65g venison medallions per person
2 tablespoons of Moroccan spice mix
cooking oil
1 medium size onion (chopped)
2 cloves of garlic
pinch of saffron
½ cup of sweet white wine or madeira
¼ cup of raisins
¼ cup sun-dried apricots (you can substitute other dried fruits such as cherries, figs, cranberries or dates)
dash of red wine vinegar
1 cup of meat stock
Raita
¼ peeled and deseeded cucumber diced very small
½ cup of plain yoghurt
1 tablespoon of chopped mint leaves
1 clove of crushed garlic
squeeze of fresh lemon juice and 1/8 teaspoon of zest
salt and pepper to taste
To garnish
200g of falafel mix
1 bunch of spinach
¼ cup of toasted pinenuts
1 red pepper (blistered and peeled)
salt and pepper
Dust each medallion with the Moroccan spice mix and stand for 10 minutes before searing in a hot pan for 2 minutes each side. Remove and rest in a warm place.

In the same pan add a little more oil and sauté the chopped onion with the garlic until soft. Add the saffron, white wine, dried fruit and vinegar. Reduce by half and add the meat stock and any juices from the meat. Reduce to a coating consistency or thicken with a little cornstarch.

For the garnish take 3 tablespoons of the falafel mix per person and fry in a hot pan, pressing them into a small cake as you do. Keep warm. Sauté the well washed spinach with the pinenuts and cut the pepper into thin strips. Place a medallion on each falafel cake and fill the middle with a mound of spinach and top with the julienne of pepper. Pour the sauce around. Garnish with a tablespoon of raita.