Roasted Venison with Glazed Chicory Tart and Red Currant Jus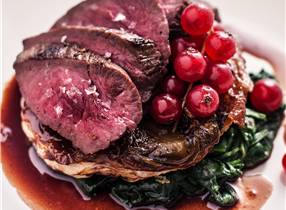 Serves: 4
Preparation: 30 minutes
Time to cook: 20 minutes
Red Currant Jus
500mls Rich Game Jus
200mls Port
1.5 tbsp Red currant jelly
2 tbsp red currants
Chicory Tart
6-8 heads Chicory, cut in half length ways
4 tsp thyme leaves
110g sugar
110g butter
4 circles of puff pastry rolls to 3mm thick, 12cm diameter
Recipe by Sophie Wright
Cook time 20 minutes, plus 30-40 minutes simmering for the Jus which can be done in advance.
Method
Preheat the oven to 200°c
Start by making your Jus.  Heat the Game stock with the port and reduce by half.  Add the red currant jelly and reduce again until your Jus is nice and syrupy.  Add the red currants once ready to serve and gently heat them through.
Roast the Venison by first seasoning with salt and pepper.  Heat a frying pan on your highest setting and add the oil.  Place the medallions in the pan and seal on all sides until browned and caramelised.  Add the butter to the pan, spoon over the Venison, add the thyme stalks and place onto a baking tray.  Place the tray into the oven for 8-10 minutes.  Once cooked to med/rare, remove and leave in a warm place to rest.
While your Venison is cooking and resting make your Chicory tarts.
Butter 4 mini tart tins and sprinkle with the picked thyme leaves.
Heat the sugar and the butter in a frying pan until it starts to caramelise.  Add the chicory, cut side down and leave to cook until golden brown on the cut side.  Remove the chicory from the pan and place into your buttered mini tartlet tins.  Pour over all the caramel from the pan.  Now lay on your pastry lids and tuck the pastry right into the sides of the tins.  Prick the top a few times with a fork to prevent the pastry rising too much and place into your 200oc oven for 12-15 minutes.
Once cooked, remove and turn out onto your warm plate.  Slice the venison and place on top of your tart.  Spoon  the hot red currant Jus around, garnish with shoots, and serve.