Tamales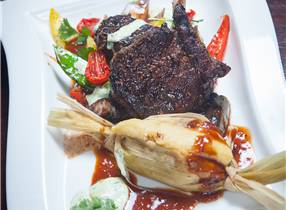 Serves: 4
Preparation: 1
Time to cook: 1
Venison
1 8 rib venison rack (cap removed)
salt and pepper
oil
Cajun or southwestern seasoning
Avocado Cream
1 avocado
2 limes
1 handful of cilantro leaves
150ml sour cream
chili sauce to taste
Black Bean Hash
2 corn cobs, complete with husks (leaves)
2 capsicums
125 g venison trim, diced small, sautéed rare and cooled
1 can of precooked black beans
1 red capsicum, smoked, blistered peeled and diced small
3 large ripe tomatoes
1 onion diced
2 cloves garlic
1 chipotle chilli
2 tbsp cilantro leaves
1 tsp ground cumin
1 cup tomato concasse
Olive oil
Salt & pepper to taste
Tamale Dough
10 tablespoons soft vegetable shortening
1 cup Masa harina (fine cornmeal)
2/3 cup cornmeal
1 tsp baking powder
Pinch or two of cayenne pepper
¼ tsp cumin
1 ½ tsp salt
1 cup warm water 
1 x cup fresh corn kernels
Recipe by Graham Brown
Method
Avacardo Cream
In a blender, puree the avocado with zest and juice of limes. Add a handful of Cilantro leaves,sour cream and chili sauce to taste.
 Refrigerate until needed.
Black Bean Hash
Smoke the two ears corn and capsicums in a covered BBQ. When cooked, remove husks, shuck the corn and put husks and kernels to one side.
Deseed and dice the tomatoes. Sauté the onion in oil, add garlic, fine diced chipotle chilli, red pepper, sweetcorn and tomato. Simmer until corn is soft; stir in cilantro, seasoning, and black beans. Allow to cool before adding the precooked diced venison.
Tamales
Purée the corn until smooth.
Whip shortening the until light.
In another bowl mix dry ingredients, add the water, and mix into a dough.
Combine the dough and pureed corn into the shortening; stir ingredients into a sticky mass.
To assemble, soak eight corn husks. Lay two husks together at a time, spread with dough about 3mm thick.  Place a quarter of the smoked corn black bean hash on the dough, roll the sides in, and fold up to form a parcel. Twist and tie the husks, makes four. Cook  in a covered steamer for 40 minutes. 
Venison Rack
Take the venison rack and cut between rib bones to make 8 chops. Rub with a Cajun or southwestern seasoning, stand for 1 hour, brush with oil and cook on a hot BBQ for  3-4 minutes each side.
When cooked to medium rare remove the chops from the heat and rest somewhere warm whilst preparing some BBQ vegetables.
Serve one or two chops per person, with a tamale, BBQ sauce and the avocado cream on the side.