Venison Sausages with Horseradish Mash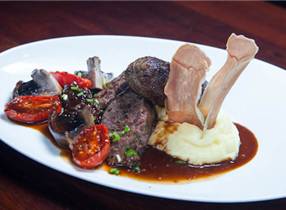 Serves: 4
Preparation: 30
Time to cook: 10
For the sausage
500 gms of venison trim or mince
1 tspn salt
4 shallots finely chopped
100 gms of mixed mushrooms finely chopped
1tspn fresh thyme
½ tspn chopped sage
1 tblspn chopped parsley
1 tspn ground black pepper
¼ tspn mace
1 tspn English mustard
75 mls cold meat stock
Salt
1 heaped tablespoon of instant mashed potato flake
Horseradish mash
4 large potatoes cooked in skin. skinned while hot and passed through a sieve
1 tspn horseradish purée
Salt and white pepper
Pinch of nutmeg
50 gms butter
75 mls of cream
For the sausage
If using venison trim season with some salt. If you have time leave to stand overnight covered in the fridge (optional).
Mince all all the trim and take ½ and mince again with a fine blade.
Reserve, keep cold.
Sautee shallots and mushrooms until cooked right down almost dry add the seasonings and cool. Mix with the mince, add mustard and mix all together, add the instant mash and the stock a little at a time to get a nice firm sausage mix.
Spread cling film out on the bench and either pipe in or hand form a long sausage about 4 cm diameter. Roll up and secure the ends with a knot and portion out your links either tying with string or strips of cling film. You will need 8 even sized sausages.
Boil a large pan of water and blanch the sausages for about 3 minutes, then plunge into ice cold water, let cool.
When ready to serve remove the wrapping from the sausages and fry in a little oil until nicely browned all over.
For the mash
Add all ingredients to the hot mash and heat.  Without overbeating, carefully add cream slowly to get a fluffy consistency.
To Serve
Serve sausages on a bed of mash with your favourite BBQ sauce or a gravy. Garnish with oven roasted tomatoes and some crispy fried bacon.