Ginger Meat Balls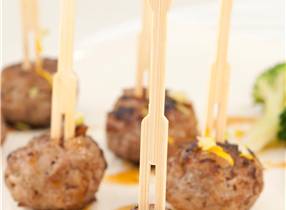 Serves: 6
Preparation: 20 mins
Time to cook: 10 mins
Venison
2 spring onions (white part and some green), chopped
Coarsely grated zest of 1 orange
500g farm-raised venison mince
45g ( 1/2 cup) dry breadcrumbs
1 egg, lightly beaten
2 cloves garlic, finely chopped
50g (1/4 cup) ginger in syrup, finely diced
1 tsp flaky sea salt
15ml (1 Tbsp) olive oil
Orange Glaze
100ml (1/3 cup + 1 Tbsp) freshly squeezed orange juice
Ad Feedback
65ml (1/4 cup) marmalade (if chunky, cut finely)
30ml (2 Tbsp) tamari soy sauce
1 tsp maize cornflour mixed with 2 tsp water
Place orange juice, marmalade and soy sauce into a small pot and bring to the boil over a medium heat.
Lower heat, add cornflour and stir for 2-3 minutes or until glaze has thickened.
Place 2 teaspoons of chopped spring onion and 1 teaspoon of orange peel into a small bowl. Cover and reserve for garnish.
Into a second bowl, place venison, breadcrumbs, egg, remaining spring onions, garlic, ginger, remaining peel and salt. Mix well with your hands to combine.
Working with about a tablespoon of mixture at a time, form mince into 32 3cm balls.
Leave in refrigerator overnight, or proceed to cook.
Place oil into a heavy-based frypan set over a medium heat. When oil is hot, add half the meatballs, or so that they are in one layer with space between each. Brown on all sides for 2-3 minutes.
Put on a warm plate and cover with a heavy tea towel. (Meatballs will be cooked further in the glaze.)
Brown remaining meatballs in the same way. Return all browned meatballs to frypan.
Pour Orange Glaze over meatballs and stir to thoroughly coat. Reduce heat to low. Cook, stirring occasionally, for 5-7 minutes or until meatballs are cooked and glaze is glossy.
Skewer and serve hot, sprinkled with reserved garnish.