Venison Pita Pockets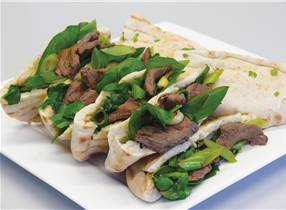 Serves: 10
Preparation: 10 mins
Time to cook: 10 mins
800g New Zealand farmed venison stir-fry
2 clove garlic, crushed
2 cm ginger, peeled and chopped
2 red chilli, deseeded and diced
1 Tbsp sesame oil
1 Tbsp rice bran oil
4 spring onions, sliced
3 sliced oyster mushrooms split in half
½ cup bean or pea sprouts
2 cups rocket
2 cups baby spinach
10 Pita breads, cut in half, lightly toasted or grilled
¼ cup chopped fresh coriander leaves
Squeeze of lime
Recipe by Chef John Kelleher
Marinate venison with garlic, ginger, chilli and sesame oil for 15 minutes.  Bring barbecue plate to a high heat.  Sear venison pieces quickly on both sides in a little oil. Remove and set aside.
Clean frying pan, heat some oil and add spring onions. When half cooked, add bean sprouts and mushrooms.
Return rested venison and cooking juices, toss together and add rocket and baby spinach, toss again. Fill halved pita bread pockets, sprinkle with freshly chopped coriander and a squeeze of lime.