Southwestern Venison Chilli Stew with Cumin and Coriander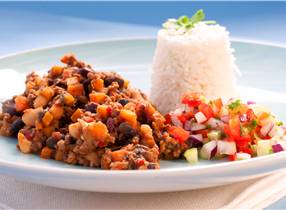 Serves: 6
Preparation: 30 mins
Time to cook: 1 hour
2 Tbsp olive oil
500g venison mince
3 tsp dried cumin
1 tsp sea salt
½ tsp ground white pepper
1 Tbsp chili powder
1 jalapeno chili, finely minced
1 yellow onion, chopped into ½ cm pieces
2 carrots, finely chopped into ½ cm pieces
2-3 garlic cloves, minced
1 red capsicum, chopped into ½ cm pieces
1 can crushed tomatoes
3 cans beans (can be some combination of kidney, black, or lima), rinsed and drained
2 Tbsp brown sugar or honey
1 bunch coriander, rinsed and finely chopped
1 canned chipotle chili pepper, mashed (optional)
Best Family Style Recipe
2011 NZ Guild of Food Writers Venison Recipe Competition
Recipe by Sarah Hedger
In large soup pot, heat olive oil on medium high heat.  Brown venison in small batches, refrain from stirring for about 30 seconds while meat sizzles and browns. 
Once all the venison is browned add back to the pot and add cumin, salt, white pepper, and chilli powder.  Stir and cook on high for 5 minutes.  Add onion, carrots, garlic, red capsicum and give a good stir.  Cook for another 5 minutes until veggies are softened.  Add crushed tomatoes as well as one can of water (just rinse out tomato can with water and add to pot), beans, sugar, half the coriander, and the chipotle pepper if using.  Bring to boil and reduce heat, cover, and gently simmer for an hour. 
Remove from heat, stir in remaining coriander, and adjust seasonings. 
Serve with crusty bread or some soft tortilla.
Enjoy!